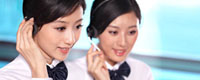 Name: Jerry Huang
Tel: +86-14774920441
E-mail: info@plusmed.com.cn
Add: A208 Hongdu Business tower, Fanshen Road, Baoan District, Shenzhen China


Based in the Silicon Valley of China and founded by experienced engineers, Shenzhen PlusMed Techonology Co Ltd specialized
in the independent research, development, production, marketing and sales of medical equipments, including digital medical
diagnostic ultrasound systems, patient monitors, infusion pumps, etc.

Shenzhen PlusVet Technology Co Ltd is subsidiary of PlusMed group focus on animal health and providing veterinary medical
equipments.

TellMedical Technology Co Ltd is the branch in Hongkong.

After OEM/ODM business for other companies for over 8 years, PlusMed decided to use its own brand for marketing and sales.

Best quality and service will be our mission.