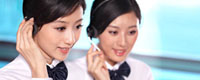 Name: Jerry Huang
Tel: +86-14774920441
E-mail: info@plusmed.com.cn
Add: A208 Hongdu Business tower, Fanshen Road, Baoan District, Shenzhen China



Q: How to submit after sales demands?

A:You can contact us throught email (info@plusmed.com.cn), our customer service engineer will provide you solutions such as remote maintanence,door-to-door service, cinician training according to your demand,after that our customer service center will call you back to collect your satisfaction opinion to this service,and thanks to your opinion we will make our service better.

Q: How to deal with instrument power off?

A: Please make sure the power line is firmly connected at the back of the instrument, then check the fuse, if the fuse is burned,please replace a new one with the same type(there are backup fuses in the package). If all the ways above can not solve the problem please contact our after sales service department.

Q: How long it takes to clean and disinfect the probe in use?

A: You need to clean and disinfect the prode each time you used,see more details in instrument check and maintanence chapter of the operationg manual.